Highlights from Adobe Tech Comm Enterprise Summit 2011
The week of October 13th, Adobe held highly informative Tech Comm Enterprise Summit in both Waltham, MA and San Jose, CA, celebrating 25 years of FrameMaker and 20 years of RoboHelp. The events, which were restricted to a relatively small audience, featured various thought leaders who shared their vision of where technical communications are going and how Adobe's Tech Comm Suite (FrameMaker/RoboHelp/Captivate etc.) can be an essential tool on that journey.
GPI's own Maxwell Hoffmann was a featured speaker, sharing both a case study on DITA benefits and insights into how content may be optimized for globalization. In this blog, Maxwell shares highlights of the event, which include many key concepts that will prove useful to any customers working with a translation agency on multilingual projects or clients who still work in English-only.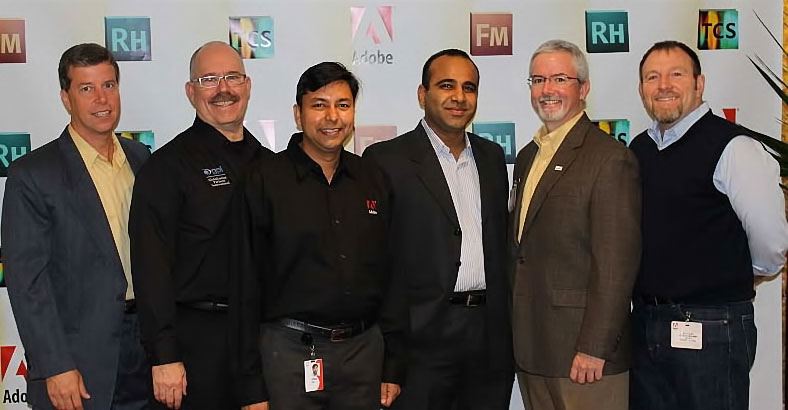 Guest Speakers (from left to right): Tom Aldous, Adobe; Maxwell Hoffmann, Globalization Partners International; Ankur Jain, Adobe; Kapil Verma, Adobe; Rick Thompson, Accenture; Scott Abel, The Content Wrangler
GPI's Solution for Automating Post-Translation Formatting via Foolproof DITA with FrameMaker 10
This session focused on GPI's metrics for ROI in migrating to DITA and completely automating document formatting, from an actual case study. The reason the session was labeled as "Foolproof DITA" is because GPI developed a structured FrameMaker application for a major medical device manufacturing company that severely limits publishers' choices for both document structure and format overrides.
With regular (unstructured) FrameMaker (or Microsoft Word), authors and publishers can sometimes have "too much" freedom in their choices for organizing a document and applying format overrides.
Text that is copied/pasted into regular FrameMaker from another source can often insert "look alike" fonts that are not Unicode compliant. This can result in unreadable characters after language translation, as shown in the screen capture below:

One challenge faced by many of GPI's clients is working with a transient workforce primarily composed of contractors. In this project a major customer goal was making document authoring nearly "fool proof" in terms of choices available to the publisher. GPI worked closely with client stakeholders to develop elaborate, powerful context-sensitive formatting rules driven from the EDD (Element Definition Document.) For instance, in the customer's documents whenever a table occurred immediately after a figure, it was always a "keyed" call-out table, that needed to display a very small point size. EDD format rules were constructed to ensure that if the table were moved via structure view to a new location to serve a different purpose, the table point size would automatically change in real time.
While watching a live demonstration of this feature, one audience member Tweeted that it looked like "location aware" formatting.
Other case study highlights included the strategy of creating a single structured template that worked with 27 different target languages. After document translation, when DITA files are opened in FrameMaker, a language attribute on the [DITA] element level is specified, and "Figure", "Table" and "Note" paragraph prefixes are automatically replaced with translated text, and hanging indents are adjusted appropriately. Content which go through Korean document translation or Chinese document translation automatically has an appropriate Asian font substituted for all paragraph and character elements throughout the project.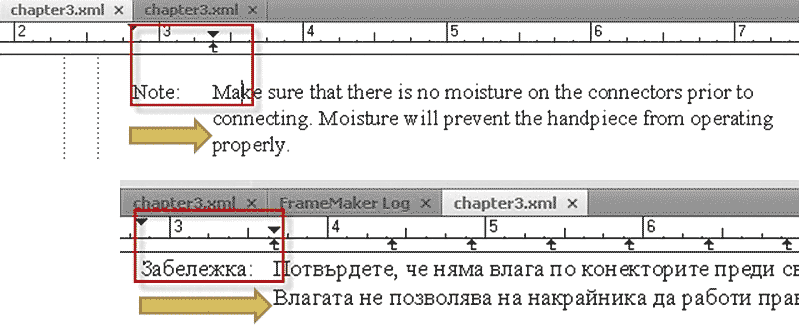 Key advantages were that using DITA in FrameMaker 10 reduced overall project costs by 50% and reduced author project training to one seventh of its original time! A key benefit to the client is that minimal project orientation is required for contractor authors or editors who may return for revisions after an 18 month absence. In addition, 189 paragraph styles were removed (from the original unstructured FrameMaker legacy files) and authors/publishers only deal with about 20 common DITA elements on a day-to-day basis.
Although lessons learned and key benefits of the case study would benefit any language translation services agency, the principles covered were also highly useful to any customers using English-only publishing.
Content Manufacturing: Understanding the Role of Tech Comm in Enterprise Efficiency
Key thought leader, Scott Abel (better known as The Content Wrangler) covered a variety of new challenges in creating content that is appropriate for a variety of presentation platforms and socially networked enabled consumers, who demand more from documentation than the traditional "tech doc" look and feel of documents past.
Scott made it clear that writing content optimized for multiple purposes and document translation or website translation is a science rather than an art. Ironically, writing skills in schools continue to be taught as an "art" or leaning towards literary standards, e.g. don't repeat the same descriptive word in a single paragraph. Scott quoted Rahel Bailie on two key concepts:
Strategy is often lost upon those who only think in terms of deliverables
Strategic planning involves what to do with capital and people
Scott recommended two books by Ann Rockley: (a) Managing Enterprise Content: A Unified Content Strategy and (b) eBooks 101: The Digital Content Strategy for Reaching Customers Anywhere, Anytime, on Any Device.
Key Trends in Technical Communications
Kapil Verma delivered a new presentation on continuing trends that involve more dynamic media, video and multimedia in documents. In addition, much of what used to be considered as "tech doc" must be delivered to tablets and hand-held mobile devices, in addition to dynamic Help formats and PDF for paper consumption.
Compelling statistics on the massive amounts of social media, community generated content and dynamic content like video is changing on a daily, if not hourly basis.
Deriving Highest ROI from Migration to Structured Authoring
Kapil Verma of Adobe presented compelling return on investment (ROI) statistics that create a compelling business case for migrating from unstructured content to XML or DITA. Research from recent surveys revealed that more than 60% of FrameMaker users have migrated to DITA and that FrameMaker is the leading authoring tool for companies migrating tech doc content to DITA.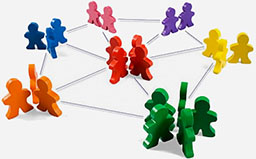 Developing an Enterprise Social Collaboration Strategy
Ankur Jain of Adobe covered strategies for migrating to various Help platforms, including moderated, community Help based on Adobe AIR. Tech Comm Suite can single source publish from FrameMaker source files via RoboHelp into traditional Help formats like HTML and Eclipse, as well as ePub and moderated Help. Several examples (including Adobe's own Help Communities) were used as compelling evidence that users will proactively contribute highly useful content that keeps product Help up to date, including links to "How To" YouTube videos.
Multi-Channel, Multi-Device publishing
Adobe's Tom Aldous gave a brief overview of major publishing milestones through the ages (e.g. transition from clay tablets to early forms of papyrus) and how various historic document delivery platforms increased content distribution. Echoing statistics from the presentation on "Key Trends in Technical Communications," Aldous shared how product and documentation consumers are being influenced by social media to expect video and rich media to be available in documentation. Users are also expecting a form of content delivery that allows community comment and contribution, per the Social Collaboration Strategy demonstration. Aldous gave a very brief but compelling demo on the ease of applying structure to unstructured content to migrate document data into FrameMaker/DITA format.
Rethinking Documentation Development
Rick Thompson of Accenture shared project highlights in a compelling case study on how the development of training materials was set up for a client in North Carolina. A key project mission was for customized DITA element tags to make all document structure "self-evident," e.g. having a list called [ListOfRequiredMaterials], etc. Tom Aldous had developed the structured FrameMaker application for Accenture prior to coming on board with Adobe. The overall project mission was to make publishing as guided and automated as possible and to hide complex DITA structure and formatting rules from authors and publishers.
Incidentally, GPI was contracted to develop customized training for team members on the Accenture project; most of them had never used FrameMaker before. Key training highlights included that the "FrameMaker Architect" on the Accenture team swiftly became totally self-sufficient after 5 days of training. In fact, the staff had become so self-reliant that Accenture has only used 6 hours of Help Desk support from GPI over the past six months, although they anticipated the need for up to 40 hours of post training support.
More resources about FrameMaker
Adobe staff and customers have generated a tremendous amount of useful video and text content about FrameMaker. The following links may prove to be particularly useful:
More resources about RoboHelp
Adobe staff and customers have created a large amount of highly useful reviews, blogs and feature overviews on the latest version of RoboHelp. The following list of links will take you to some of the better blogs or video demos on this dynamic product: