eCommerce in Greece: Thriving Against the Odds
I just returned from a trip to Europe and GPI's office in the UAE. Since my return, I have been asked over and over again, "how are things in your home country, Greece?"
Greece has experienced economic turmoil for several years now. The sentiment in the country ranges from excitement and hopefulness to despair and fear. Unfortunately, in some parts of the world, Greece is now often looked down upon with a mixture of amusement, disbelief and shock – part comedy and part Greek tragedy.
Despite the precarious economic situation Greece is currently in, there are some industry sectors that provide hope, particularly eCommerce, which has seen solid growth in recent years.
eCommerce in Greece – by the Numbers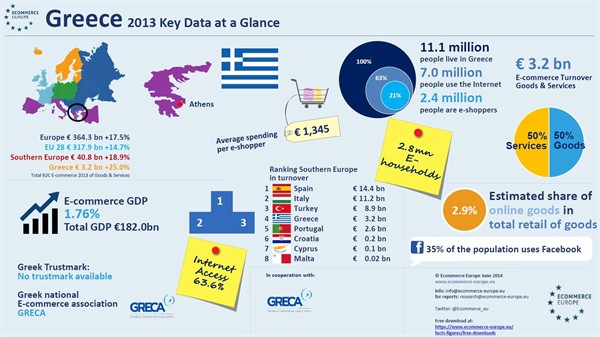 Below are some statistics on Greece and its online population:
Current population exceeds 11 million people
58% of the Greek population use the internet
3.4 million use the internet to shop online
Average amount spent online is approximately $1,500 per year
35% of the total Greek population use Facebook
Sales from eCommerce reached 4.3 billion U.S. dollars in 2014
Greece ranks 4

th

in Southern Europe in terms of eCommerce sales
GRECA
GRECA stands for Greek eCommerce Association, an association established in 2012 in Greece by 22 eCommerce companies. Within two years, GRECA listed more than 115 members and reached more than 2,000 eCommerce decision-makers in Greece.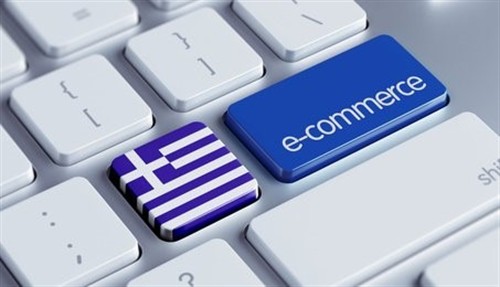 The association's primary focus includes opportunities for networking and education, acting as a lobby for its industry within the state and other national entities, and ultimately gaining the trust and goodwill of the customers it serves.
An important step in the right direction was GRECA joining Ecommerce Europe, the European umbrella organization for eCommerce, in 2014. The organization serves companies and associations that sell their products and services online across Europe, supports initiatives such as cross-border eCommerce and eases restrictions set forth by individual European countries and their governing bodies. The president of the board of directors of eCommerce Europe, François Momboisse, upon Greece joining the organization, stated that Greece was one of the fastest growing online markets on the European eCommerce landscape. Greece saw a 40% growth rate in each of the last three years leading up to 2014 making it one of the leaders in Southern Europe in terms of eCommerce sales along with Spain and Italy.
Image Credit:
Sean Owens Willows Consulting
The Effect of a Deepening Crisis
The deepening Greek crisis has had some dampening effects on the Greek eCommerce landscape as of late.
Early in the summer of 2015, the controls on capital and the 60 Euro per day spending limit imposed resulted in online payments and credit cards being rejected at checkout. The problem is so far reaching that some airlines now are accepting cash payments to book flights and purchase airline tickets because they are no longer accepting Greek credit cards. Some large online retailers have also closed their doors to transactions from Greece, including Google and Facebook.
An interesting caveat to add is that BitCoin is gaining interest and momentum from Greeks desperately trying to find ways to circumvent the daily limits imposed by the Greek government. This, of course, is the perfect opportunity for BitCoin to promote their currency as others, like Kim Dotcom, recommend BitCoin and gold.
Summary
According to a recent blog post by Sean Owens, the only Greeks that can still conduct purchases online are the fortunate ones who have credit cards linked to offshore accounts. What does that mean for Greek eCommerce and the Greek economy as a whole? Greeks are taking it one day at a time seeing that their situation changes day by day and sometime even hour by hour, hoping for a long term, sustainable solution to be put in place so people can begin to regain some sort of normalcy in their daily lives. Until then it seems their fate lies in the hands of the Greek gods!
Further GPI Resources on Website Translation, Global SEO and eCommerce Translation Services
GPI has recently expanded our eCommerce website translation teams and services to include:
Country specific research and reports on market selection and entry
Website cultural correctness and customizations review and reports
Translation Services Connectors for CMS and eCommerce platforms
Translation and localization services for online/offline content
Global Search Engine Optimization (SEO)
Global Search Engine Advertising (SEA)
Country specific Social Media Localization
You may also find some of the following articles and links useful:
Further Information on Localization Resources