Translation and Localization for Africa: The Republic of Ghana
Ghana, officially known as the Republic of Ghana, is an African country on the northern coast of the Gulf of Guinea in West Africa. It is bordered by Burkina Faso to the north, Togo to the east and the Ivory Coast to the west. It is a pivotal state in West Africa.
It became independent from Britain in 1957 and its former name was the Gold Coast. In this blog, I will cover some brief, but important facts about the Republic of Ghana.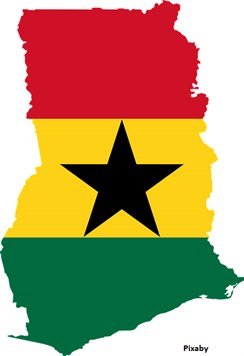 Ghanaian Demographics
Ghana's land size is roughly 239,000 square km.

The population is 28.6 million people.

The capital is Accra.

The other important cities are Kumasi, Tamale, Tema and Takoradi.

The government type is a constitutional republic.
Ghanaian Languages
English is the official language of the country, there are an addition 79 other languages spoken in the country, mostly African languages and dialects.

Ghana offers many opportunities for English and French language teachers. According to the last published numbers, more than 500,000 children are unable to attend school due to the lack of trained teachers.
Ghanaian Culture
Of the people who practice religion, 72% are Christian, 18% are Muslim, 9% are Traditional (indigenous) and 1% are other.

There are more than 100 ethnic groups in Ghana. The largest are Akan, Moshi-Dagbani, Ewe and Ga.

The Ashanti tribe of the Akan is the largest tribe.

Family is extremely important in Ghana and familial obligations take precedence over anything else. A person's social standing is achieved through their extended family.

Titles are important so when addressing someone use their honorific, academic or professional title along with their surname.

Ghanaians have an indirect style of communication.
Ghanaian Consumers
Ghana has the tenth largest economy in Africa.

The average income per person is about $1,600 USD.

Ghana's economy is largely dependent on agriculture, such as cocoa, coffee, rubber and timber, in addition to the presence of gold and diamonds.

Ghana's economic growth is strong due to its diverse and rich natural resources.

Its currency is the Ghana cedi.

There are roughly 8 million internet users in Ghana, which represent around 28% of the population.
Ghana's Future
Most of the population and agricultural resources are concentrated in the southern half of Ghana because of the forests and fertile soil. This region is famous for its waterfalls, rivers, caves, lakes, mountains, wilderness parks, nature reserves and represents a potential opportunity for investments in tourism.
The southern part of Ghana is also an important provider of raw materials due the mineral wealth of heavy metals like iron, copper, zinc, lead and bauxite.
Many investors go to Ghana to invest in the production of gold, silver and diamonds. There are also opportunities in telecommunications as this sector is rapidly booming. There is a tough regulatory market and few providers so competition is low.