How to Evaluate Translation Costs
Whether you are planning to translate your website, software, multimedia files or documents for your global business expansion operations, you may be confused on how to best evaluate the translation costs associated with your project. Below, you will find some useful information to help you gauge an estimation for translations.
Translation Quotes
Estimations and quotations for translation projects are generally based upon the project type (website, document, software, etc.), source and target languages and the number of words. Other factors, like the below, can also affect the quote:
Glossary Development
Desktop Publishing Requirements (DTP)
Translation Memory
Timeline
Volume of Work
File Format
Subject Matter
A first step in preparing a translation quote is analyzing your files with a translation tool to get an accurate word count. The number of words is then used to determine the per word rate. Each language has different pricing per word.
Any ISO certified translation company following best practices will be sure to run this analysis against existing Translation Memories (TM) you may have. TM is a tool used to save your translations for any future projects in order to help you save cost and time. TMs are built over the years and it is very important to use a consistent vendor to get the most out of it.
Once analyzed, the new words are charged 100% of the per word rate, while repeated words will be provided a discount with the help of your TM. Other charges are based on your formatting/layout, volume of work and other factors. Glossary development, formatting, project management fees and engineering tasks are always charged based on the number of hours.
Letting your translation agency know about the volume of future work can help them provide you with account-based pricing, which is provided for ongoing translation projects.
Budgeting for Translation Services
To help clients get an idea of the translation costs associated with projects, GPI has created a series of eBooks to help you create a budget. You can access the eBooks through the below links:
The below is a screenshot from the How to Budget for Document Translation Services eBook.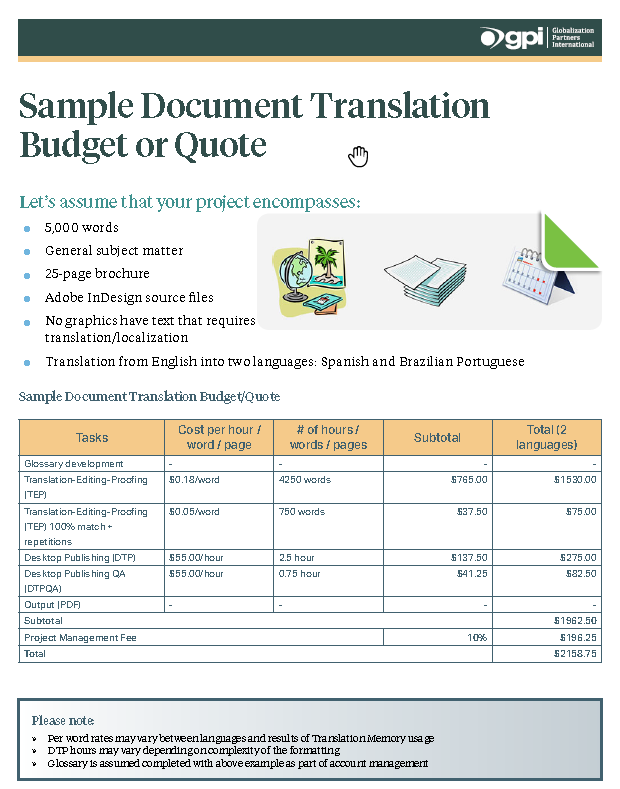 Quick Quote Calculator
You can also use GPI's Quick Quote Calculator to put in your translation project information, such as project type, languages, number of words, number of pages that require formatting, etc. to get an estimation of your project's translation costs.