The Languages & Locales April edition is now available!
Education, entertainment, and everything you wanted to know about translation services but were afraid to ask. Don't miss the April Edition of Languages & Locales, the official newsletter of Globalization Partners International.
In this issue, you'll get a Case Study detailing how GPI's globalization services team utilized the Optimizely (Episerver) Translation Services Connector to provide Epicor with a range of language localization and technology services including:
Comprehensive Website Localization
eBook Localization
Infographic Localization
Webinar Content Localization
PowerPoint Presentation Localization
Email Localization
In Tools & Tips, you will learn about GPI's Translation Services Connector for Optimizely (Episerver) enabling users of Optimizely CMS to launch and manage multi-language websites. In Meet the Team, you will go behind the scenes and meet some of the GPI translation professionals. And don't miss the Curation Corner bringing you interesting news and articles from around the world.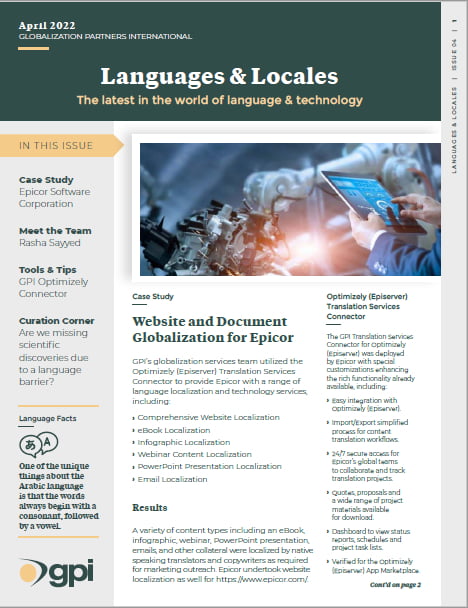 Are you ready to dive in? Read the Languages & Locales April edition now!
Subscribe here if you want to receive the monthly editions of Languages & Locales.