HubSpot and the GPI Translation Services Connector: Part 1
HubSpot is a marketing automation software platform that adopts inbound marketing methodologies to help companies attract visitors, convert leads, and close customers. HubSpot provides the sales and marketing tools you'll need to execute your global digital marketing strategy, like blogs, social media, email marketing, and website analytics.
As a HubSpot Partner, translation agency, GPI, has developed a powerful cloud-based Translation Services Connector to leverage best practices when localizing inbound marketing content and the translation process workflows associated with them.
GPI's Translation Services Connector for HubSpot enables users of HubSpot's marketing automation platform to initiate translation workflows for eBooks, brochures, whitepapers, and an array of inbound marketing content in any language and for any locale. Users also gain access to reports to track and manage global translation projects through GPI's award winning  Translation Services Portal.
With just a few clicks of the very easy to use Translation Connector, companies are now able to manage their translation process workflows.
Accessing the GPI Translation Connector
1) Access the GPI Translation Connector via https://www.hubspotconnector.com/.
2) Hover your mouse over the 'Sign in with HubSpot' button.
Enter your HubSpot Portal ID Number
Click the Login button

3) You will be taken to the HubSpot Login Page.
Enter your HubSpot Login Email
Enter your HubSpot Login Password
Click login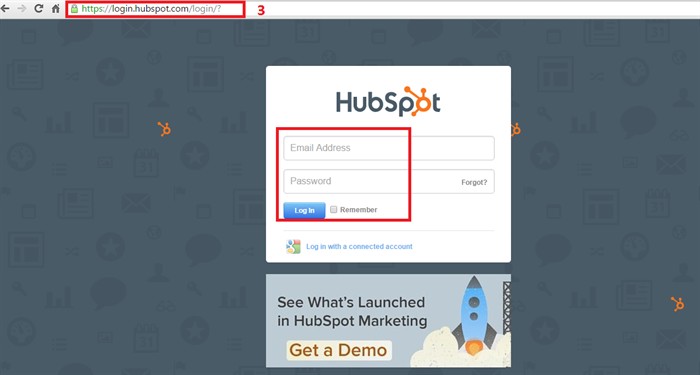 4) You will be taken to a HubSpot authorization page.
Click 'Authorize' to grant the GPI HubSpot Connector access to your data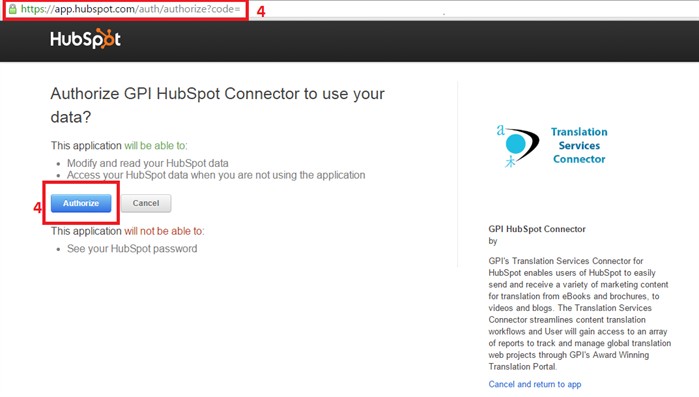 5) The GPI HubSpot Translation Services Connector is ready for use.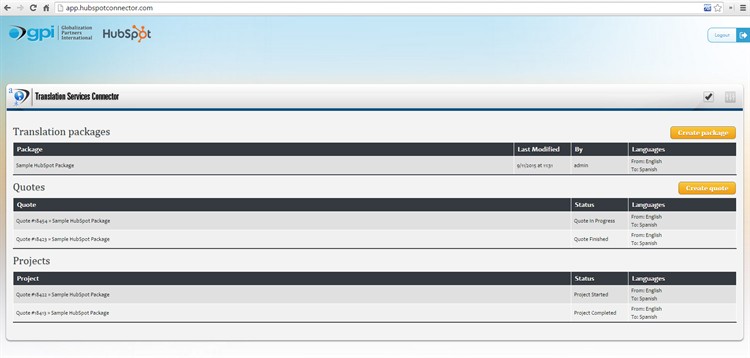 Features and Benefits of Hubspot's Translation Connector
So whether you have a HubSpot COS-driven website or any type of inbound marketing content from blogs and videos to eBooks and brochures, GPI's Translation Services Connector for HubSpot enables users to quickly send and receive a wide range of marketing content for translation. The Translation Services Connector reduces steps and saves time with content translation workflows.  In addition, Users get access to an array of detailed reports to track and manage translation projects through GPI's Award Winning Translation Portal.