News: Abu Dhabi Adds New Regulations to Ride-Hailing Apps
Ride-hailing applications, like Uber and Middle East-based Careem, are facing new regulations for Abu Dhabi operations. According to a top Abu Dhabi taxi regulator, ride-hailing apps will now have to register their app and comply with new regulations to operate in the emirate.
Uber and Careem suspended Abu Dhabi services on August 27th. Both companies reported many of their drivers were stopped for violations. Careem has since resumed services, while Uber's services are still suspended pending regulation clarifications.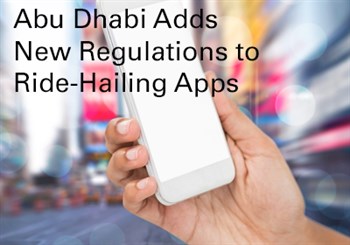 Currently, ride-hailing apps are not regulated in the UAE and these new regulations will help prevent the rising problem of illegal drivers and over-charging.
New regulations will require ride-hailing services to work exclusively with luxury private hire companies and follow their pricing structure, they must also send a list of drivers and cars to The Centre for Regulation of Transport by Hire Cars (Transad).
Ride-hailing apps will also have to register with Transad.
Transad general manager Mohamed Darwish al-Qamzi said, "We are not against the apps services. It is the choice of the people. But we need to make sure the cars are safe, drivers are genuine and the safety of customers is first."
Uber has been operating in Abu Dhabi since 2013, and said they have plans to invest $250 million in the fast-growing MENA market.
To read more, please see: Abu Dhabi to introduce new regulations for ride-hailing apps